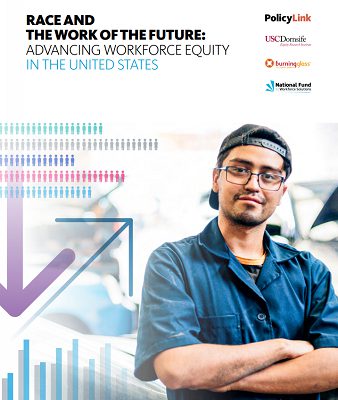 This new report makes the case that workforce equity must be at the center of building an equitable economy. White workers are about 50 percent more likely than workers of color to hold good jobs, and much less likely to be displaced from their jobs by automation. Median wages are higher for White workers with a high school diploma and no college ($19/hour) than for Black workers with an associate's degree ($18/hour). Racial inequities in income already cost the US economy about $2.3 trillion per year, and as the workforce approaches a people-of-color majority that toll will only grow in the absence of bold, equity-focused solutions.
Race and the Work of the Future is an invitation to policymakers, business leaders, philanthropy, and community organizations to come together to dismantle systemic barriers to opportunity for people of color, scale innovative training and credentialing models, invest in automation resilience strategies to ensure that working people can be uplifted rather than dislocated by technological advancements, and insist on high standards of job quality for all workers.
The work of the future is the work of equity: just and fair inclusion into a society in which all can participate, prosper, and reach their full potential. And the time is now.