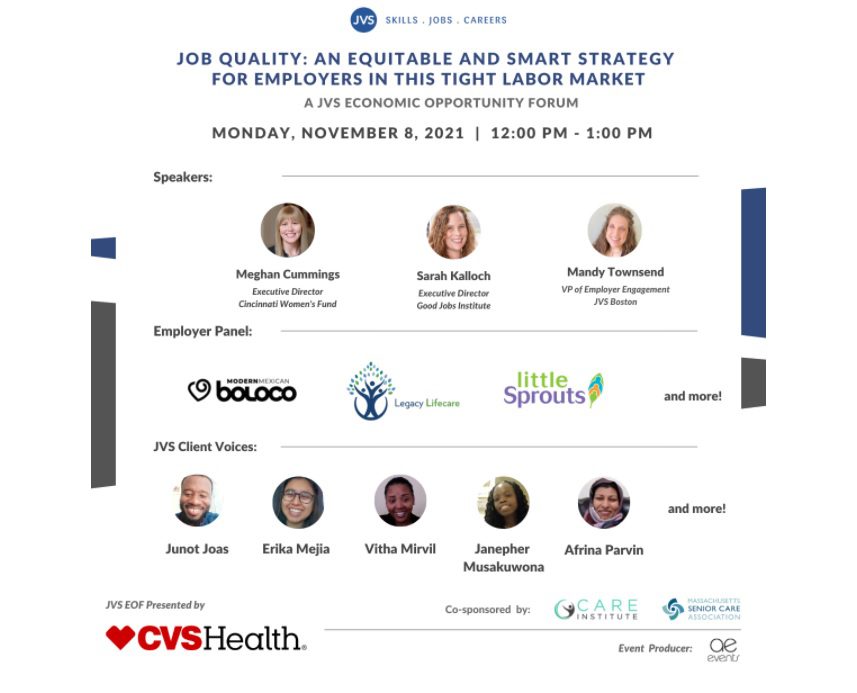 In the midst of a very tight job market, attracting and retaining the best workforce is more important than ever. Join us to learn how job quality can keep employers competitive in their field and enable workers to attain economic stability and contribute to a thriving economy.
Our panel will be comprised of experts including Megan Cummings, Sarah Kalloch and JVS' own VP of Employer Engagement Mandy Townsend. Each speaker will offer their perspective on job quality and the current labor market, followed by an employer panel about how to become and the benefits of being a Quality Employer and a collection of JVS client voices on what makes a job a quality job.
Also join our 10-Day Job Quality Challenge! We will kick off the challenge right after the forum. For 10 business days, participants will receive an email with short assigned readings, recordings and reflections that provide a context for why Job Quality matters, insight into the issues are important to workers, and the actions we can take to improve jobs and attract, hire, and retain a productive workforce so businesses can thrive.
Register here: https://jvs-boston.zoom.us/webinar/register/1616334757663/WN_zSk7ZXFaSMqTth7IkPcVbg